Jaime Angulo
San Jose
Jaime Angulo is a native of Colombia who trained as a Mechanical Engineer, specializing in metal structures and modular housing construction. He came to California in 2000 to work on a manufactured migrant farm workers housing project in the Central Valley. In 2001 he married Dayana Salazar, a San Jose State University Urban Planning professor. In 2002 Jaime and Dayana settled in San Jose and Jaime starting working for Neighborhood Housing Services of Silicon Valley (NHSSV) as their Community Building and Organizing Program manager.
NHSSV and United Neighborhoods of Santa Clara County developed the Responsible Landlord Engagement Initiative (RLEI) and appointed Jaime to lead the program. Today, after 6 years, RLEI has become a recognized community inspired tool that helps neighborhood groups resolve problem property issues, ensuring that neighborhoods stay safe and healthy. In 2015, the RLEI program found a new home with Catholic Charities of Santa Clara County. Jaime continues in his role as manager of RLEI with the plan to growth and expansion of the program in Santa Clara County. Jaime and Dayana live in downtown San Jose with their 10-year old son Kai.
Eliane Bauer
San Jose
Patricia Becker
Palo Alto
Patricia loves helping people reach their health goals. She provides Yoga TV Classes at YouTube.com and Health News You Can Use at YourHealthandJoy.com  She also recommends products including Organic Body Care, Health Foods, Yoga Props and Books at BESTHealthCare. Patricia has 25 years of education, expertise and practical experience. Her nutrition study is steeped in ancient Macrobiotic Dietary Guidelines. She teaches yoga based on the Principles of Alignment and is a certified Yoga Alliance RYT®. She is also part time Yoga Instructor for Stanford University's Health Improvement Program.
Robin Brune
Felton
Robin Brune has been a resident of the San Lorenzo Valley, in the Santa Cruz mountains, for fourteen years. She looks forward to strengthening her skills in advocacy and civic engagement through the Community Advocates Leadership Academy.
Alba Cardenas
San Jose
Alba is interested in bridging the community with information they need. Alba is bilingual which helps her reach communities that otherwise would not learn what is affecting their environment and how it impacts their lives. Alba is passionate about the access that communities have to green spaces, as well as making a change to improve or increase those opportunities. She is looking forward to learning many tools and network connections in CALA to aid in her community advocacy.
Diego Castro
San Carlos
Rosalba Cirimele
East Palo Alto
Kimberly Delgado
San Martin
Stephanie Flores
San Jose
Shay Franco-Clausen
San Jose
Shay Franco-Clausen is a mother, activist, mentor, change-maker, nonprofit founder and wife, who find ways to serve as a voice for those whom have lost theirs.
A "protector of Women's, LGBTQA, Environmental and Human Rights," Shay finds her way to take her rightful place at many decision-making tables. Always advocating for policies changes that benefit "all people" of her community, Shay serves on many boards and commissions. Being the first Afro-Latina, Lesbian to serve as Chair the Santa Clara County Commission on the Status of Women, Chair Justice and Advocacy Committee, past member of the Santa Clara County IPV - Domestic Violence Task Force, Norcal Representative for Association of California Commissions for Woman, President of the Silicon Valley African American Democratic Coalition, Chair of the San Jose Evergreen Green Valley College Bond Oversight Committee and Director of Outreach and Communication for Santa Clara County Democratic Central Committee, to name a few.
A champion in the fight for socioeconomic, racial, and gender equity, Shay is the Director of Development and Government Relations for a local Nonprofit, Silicon Valley FACES, using her lens to serve the K -12 students. In the school communities, Shay know the importance of teaching empathy and understanding, as a guide to building stronger communities. In January, with her passion and love for open space and conservation, Shay will be elected to serve 4 years on the Santa Clara Valley Open Space Authority, representing District 5. Shay is a mother of 5 wonderful children, with her wife Yolanda, who is a Law School student that serves in Palo Alto Police Department. Shay values her life experiences, as the impetus to her passion for serving.
Andrea Fraume Valencia
Milpitas
Andrea Fraume Valencia has been calling the Bay Area "home" since 2005. She was raised to believe in improving the world for future generations and care for the environment. Living and studying in San Jose gave young Andrea the safety to apply these lessons, serve her local community and learn about social justice. Andrea currently works as an Outreach Coordinator for Bay Area Wilderness Training, bringing resources for educators and youth workers to lead outdoor trips for youth of color and young people from low-income backgrounds.
Julian Garcia
East Palo Alto
Kathleen Goforth
San Carlos
Kathleen grew up on the East Coast, went to college in the Midwest, and has lived in San Carlos for over 30 years.  For most of her adult life she has worked at the U.S. Environmental Protection Agency regional office in San Francisco, where she currently manages the National Environmental Policy Act (NEPA) program. Kathleen has a B.S. in Science and Environmental Change, with an emphasis on biology, and is a Certified California Naturalist.  She volunteers as a docent, Education Center host, and citizen scientist at Edgewood Preserve in Redwood City, and serves on the board of the Friends of Edgewood. She has completed the San Mateo County Office of Sustainability's (OS) Master Conservation and Master Composter training programs, and periodically volunteers to assist with public outreach for OS programs and Peninsula Clean Energy. She has also been trained in crisis response by the National Organization for Victim Assistance.  Kathleen loves working with children.  She has enrolled in CALA to learn how she can be most effective in working at the local/regional level to:  ensure that Peninsula communities continue to be leaders in combating and adapting to climate change; support the well-being of foster children; and generate public support for the restoration and protection of native ecosystems. When not working or volunteering, she can often be found puttering around in her yard, which she is trying to transform into a locally native wildflower garden.
Jessica Gonzalez
San Mateo
Jessica Gonzalez is the first generation in her family to attend college. She has lived locally in San Mateo for 27 years. She works as a Para Educator for the San Mateo Foster City School District. Jessica is involved with my community through volunteering in public schools and with a non-profit organization called Faith In Action. She is a leader for San Mateo Unidos where they gather once a week to be in community. The impact she hopes to make is to inspire our future generations and continue to fight for equity for everyone. Jessica enjoys going on hikes and finding a good bite for pizza.
Rick Holder
San Jose
Born and raised in the city of San Bernardino, California, Rick Holder is intimately familiar with the challenges of concentrated poverty, mass incarceration, and civic disengagement. After a
rather tumultuous childhood spent in the foster care system, Rick enlisted in the United States Navy as an Information Systems Technician. His six-years of service took him on a journey
around the globe aboard the USS Chancellorsville, a guided-missile cruiser ported in Yokosuka, Japan. Having recently separated from active duty, Rick is currently studying Economics and Political Science at Foothill College with the hopes of transferring to a four-year university to study Public Policy. He's been extremely active in his post-military life, interning with Congresswoman Anna Eshoo and the California Wilderness Coalition while also working part-time at two technology companies. Profoundly passionate about all matters pertaining to poverty, criminal justice, veterans, and climate change, Rick hopes to have the opportunity to channel his endless energy and passion to affect real change in his community and beyond.
An avid reader and writer, Rick hopes to one day pen his own novel, but until then he'll be content with traveling the world with his lovely wife Leslie and caring for their adorable Australian Shepherd. His mission is leverage his energy, passion, and experience to uplifting and empowering society's most marginalized individuals and communities. Although he doesn't know what the future holds, he knows for certain that he'll continue to serve in whatever capacity he can, whether as an elected official or as a highly engaged community advocate.
Kris Lannin Liang
Moss Beach
Kris is a third-generation Bay Area native that spent the better part of her youth in forts, forests, playgrounds, and city, county and state parks.  She rescues and rehabilitates marine and terrestrial mammals and birds, and advocates for protecting them, and their onshore and offshore environments.  As a University of California Certified Naturalist, she educates the public about the importance of restoring, protecting and utilizing our biodiverse communities to improve human health as well as the health of our planet.  Kris is excited to meet and collaborate with people committed to positive change, and learn from people that have been successful in their endeavors.
Mary Larenas
Moss Beach
Dr. Mary Larenas possesses a BA in Biology and a Doctorate in Psychology. During her Post-Doc as a Neuropsychologist with the UCSF Memory and Aging Center Mary became fascinated with how the brain responds to the natural environment and how wilderness experiences are vital to good mental health. During her 64 years on planet earth, she participated in two Arctic expeditions, traveling by canoe, with no outside contact, in Canada's Northwest Territories. Each trip was almost 40 days long and over a 1000 miles in length. Mary and her husband lived on a sailboat for 12 years and traveled over 30,000 miles on their 30-foot sailboat to the Galapagos Islands, French Polynesia, and Hawaii. Mary has been actively involved in advocating for sensible development, gender equity, the right to die with dignity, Marine Protected Areas, open-space and natural resource protection. Currently, she is a Docent naturalist at Fitzgerald Marine Reserve (FMR) in Moss Beach. Her passion is working alongside the County Parks Dept., N.O.A.A., Fish and Wildlife, community members and other stakeholders to update policies that protect the fragile habitats at FMR, which has been designated an Area of Special Biological Significance.
Ava Lindstrom
Palo Alto
Ava is a native of Illinois and has worked for Committee for Green Foothills for several years; she currently manages development and communications. As an officer with the local Democratic Socialists of America chapter, she hopes to create a better and more just Silicon Valley.  Ava graduated from Stanford University with a degree in French and enjoys reading, trivia games, and pictures of adorable reptiles.
Melanie Liu
Palo Alto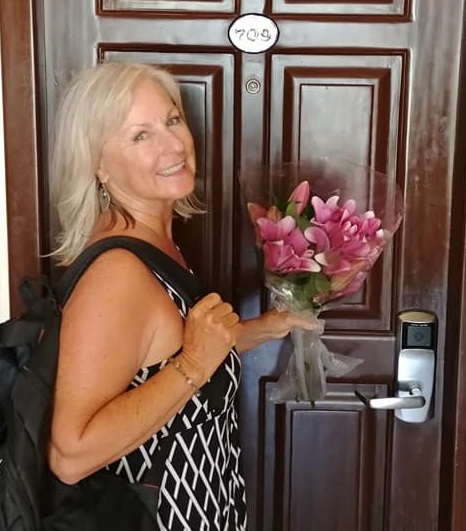 Connie Ludewig
San Martin
Connie has been a resident of San Martin since 1988, and resides with her husband on the land where six generations of the Ludewig family have lived. Together they enjoy their two cats in the yard, family, and traveling.  As a former board member of the San Martin Neighborhood Alliance (SMNA), she has taken concerns to the county, and worked to develop relationships with officials.  She has also co-chaired fundraisers to support community needs, and is an advocate for the San Martin community.
Following the 2017 storm-related contamination of San Martin, Connie researched and brought awareness to residents and the authorities about recurring raw sewage spills from Morgan Hill to San Martin during the past several years.  She continues to work to establish solutions to these problems (including 204,000 gallons of sewage released into Llagas Creek).
During the past year, Connie has been the Membership Director of the San Martin Chamber of Commerce (SMCoC), established in 2017.  She also writes their quarterly newsletter, and a bi-monthly article in the GMH Today magazine, featuring the Chamber.  Connie's hopes are to gain proficient skills for successful community leadership, and to implement positive changes in San Martin.
Jay MacIntosh
San Carlos
Jay is a native Californian raised in Cupertino, CA with an engineering and psychology degree from Santa Clara University. He's been a Court Appointed Special Advocate (CASA) in San Mateo County the past few years where he advocates for youth on behalf of the juvenile court. Jay's mission is to ensure that all foster children know that they matter a great deal to their local community. This occurs when a multitude of community members show up to lend a hand. To achieve this, he's orchestrating an effort to make it easy for individuals, businesses and other organizations to find, connect and contribute resources to a specific foster child at the time of need.
Alison Madden
Redwood City
Alison lives in Redwood City in a floating community that they are trying to save initially through advocacy and now in the realm of litigation (unfortunately, as last resort). A fun fact about Alison is that she lives on a houseboat. She has always been involved in community activities, mostly access to services and voting, until she realized the importance of civic and citizen engagement in the planning process. Alison seeks, as a resident, voter and mom, to improve civic engagement and the focus of councils onto the people, not just the projects and the money.
María Marroquín
Mountain View
Diego Martinez
San Jose
Deepti Nanawati
Sunnyvale
Cherise Orange
San Jose
A true Marylander, Cherise Orange has always strived to build bridges instead of walls. From helping organizing community events as a young child to a volunteer planner at Baltimore's Neighborhood Design Center. It is her love of people and building stronger Black communities that pushed her path toward planning. In 2013, she graduated from Morgan State University with a Masters in City and Regional Planning and was recognized by the American Planning Association (APA) Planning in the Black Community Division as a Robert A. Catlin/David W. Long Scholar.
Today, Cherise is an Associate Planner for Santa Clara County Parks where she focuses on innovatively engaging the public in the planning process and getting people outdoors. Cherise serves as the Board of Directors Chair for the African American Community Service Agency in San Jose and on the APA – Northern California Section Board as the South Bay Regional Activity Coordinator.  In these roles, she hopes to implement changes that will help minorities to thrive in Silicon Valley.
Juliana Page
San Jose
J'ana Page is Bay Area born and raised. She is a full time student and part time barista. She is majoring in political science at San Jose State University and graduates in spring 2019. In her free time she volunteers for campaigns and find ways to help her local community. Her ultimate goal is to better the world in big or small ways.
Janette Rosales
Campbell
Alexii Sigona
San Francisco
Alexii is an undergraduate student at the University of San Francisco (USF) in the department of Environmental Studies. A proud member of the Amah Mutsun Tribal Band located here in the Bay Area, Alexii is deeply interested in the intersections between indigenous knowledge and environmental issues at the local level. He is very active on campus at USF and continuously works to bring indigenous voices to academic settings. He also works part-time for the Amah Mutsun Land Trust which works to restore traditional Amah Mutsun territory and bring back Native plants, cultures, and traditions. He hopes to learn how to effectively work with local communities to improve settler colonial relations and protect our open spaces and ecosystems. Alexii plans to attend graduate school and study food sovereignty and indigenous land rights.
Barb Singleton
Mountain View
Barb has been a strong advocate for the issues close to her heart. As an amateur violist who got her start in public school beginning strings class, she has a passion for children's music education, all performing arts, and live orchestral music. This led her to work at a professional symphony as a development manager.
During the 2012 presidential election cycle, Barb was in charge of contributions to political campaigns for Proposition 37, which would have required labeling of genetically engineered food (GMO's). The outpouring of passion from contributors inside and outside of California for this ballot measure showed Barb what could be accomplished when people join together. Sparked by this job, she joined the League of Women Voters, started a Money In Politics committee, organized and promoted the City of Emeryville's City Council and School Board Candidates forums and accompanied the Mayor and City Manager to speak to the public about the issues.
After moving to Mountain View in late 2016 for a cyber security position at NASA, Barb became more aware of the extreme issues facing Silicon Valley including the housing shortage and inequity. This prompted Barb to return to a career in the nonprofit sector. Recently, Barb has volunteered with ProMatch.org, Innovate Climate Action in Sunnyvale, and STEAMfest - Redwood City Library Foundation.
Barb is originally from Southern California and has lived in the San Francisco Bay Area for over 20 years. She holds a BS in Business Management from Pepperdine University and a MS in Telecommunications Management from Golden Gate University in San Francisco.
Steve Slomka
Half Moon Bay
Steve Slomka, a resident of Half Moon Bay, had a 30+ year career in high tech marketing in Chicago and the San Francisco Bay Area. He has served on the boards of Sustainable San Mateo County and Friends of Fitzgerald Marine Reserve. He grew up in the Boston suburbs, lived in Chicago and now resides near the California Coastal Trail where he walks his dogs daily. Steve loves to explore local trails on his bicycle, lead docent tours at Fitzgerald Tidal Pools and is a Peninsula Food Runner and volunteer at St. Vincent de Paul food bank. He's interested in fighting a large real estate development planned for Dunes beach just across Hwy 1, adjacent to his home
Michael Smith
Redwood City
Mr. Smith is the founder and CEO of E&I Advisors, a boutique management consulting firm focused on delivering operating and go-to-market strategy for small and medium-sized technology companies that are struggling to meet their revenue goals. He is also an Assistant Professor of Business at Cañada College in Redwood City where he teaches courses on business law, entrepreneurship, and strategy.
Prior to the founding of E&I Advisors, Mr. Smith was a Director of Strategy and Business Planning at American Express based in New York. In this role, he worked in the Global Corporate Payments business unit focusing on innovation and target growth development.
Mr. Smith also lived and worked in Seoul, South Korea as a Global Strategist for the Samsung organization.  While at Samsung, he advised c-suite members of the company on market entry, competition, and mergers & acquisitions. He also spent several years on Wall St as an investor and relationship manager.
Mr. Smith lives in Redwood City where he serves as a Planning Commissioner and the Palm Park Neighborhood Co-chair.  Michael holds an MBA from New York Univeristy's Stern School of Business. He also holds a BA in Political Economy from Yale University.
Matthew Warren
San Jose
Matthew Warren is a staff attorney for the Law Foundation of Silicon Valley in San Jose, California. His work includes litigating fair housing matters in state and federal courts as well as advocating for the production and preservation of affordable housing locally. Through his practice, Matt works to combat displacement of households of color from the diverse communities of Silicon Valley. Matt graduated from Santa Clara University School of Law, where he was a Dean's Fellow. He received a Master of Arts in Social Justice and Human Rights from Arizona State University, and he received his undergraduate degree from Gonzaga University.