Published in the Half Moon Bay Review on 1/29/20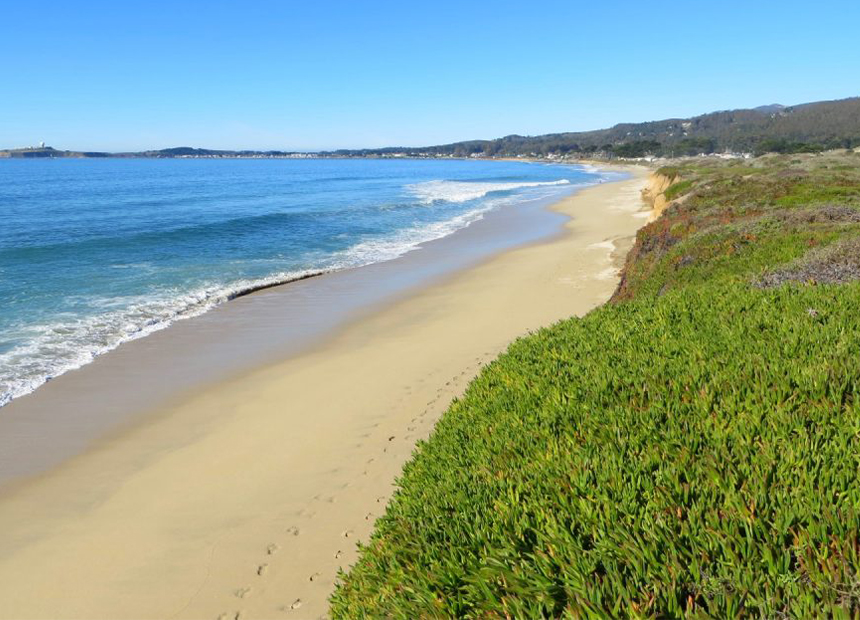 The scenic open space west of Highway 1 at the Surf Beach/ Dunes Beach area just north of Frenchmans Creek, is a treasured iconic landscape. This 48-acre site is one of the few places in Half Moon Bay where you can see the ocean from Highway 1.
Young Avenue bisects the area and provides access to Dunes, Surf and Roosevelt beaches. On the north side of Young Avenue, prime agricultural land supports open field farming in an old subdivision known as the "Surf Beach Tract." Horse stables provide recreational opportunities at the "Dunes Beach" area south of Young Avenue. Monarch butterflies overwinter in eucalyptus trees at State Parks Sweetwood group campground to the south, and federally protected western snowy plovers are at nearby Dunes and Roosevelt beaches.
The site provides many other habitat values for a wide variety of wildlife that would not, in addition to the butterflies and plovers, likely survive the impacts of major development here.
The Surf Beach/Dunes Beach "Planned Unit Development" area has remained undeveloped over the years due to fragmented ownerships and lack of streets, water and sewer services. Three different hotel-conference center proposals on eight acres at Dunes Beach in 1994, 1998 and 2000 were withdrawn due to overwhelming public opposition.
Now a sprawling development application has been submitted to the city. The entire 48 acres of open space would be covered with a 212-room, luxury hotel-conference center at Dunes Beach, and a 170-space RV Park and clubhouse at Surf Beach. A five-acre "farm" and "country-style" general store are included as token "boutique" agricultural amenities. A 40-bed hostel in a 2,875-square-foot building would provide a few "lower cost accommodations." Twenty lots owned by Coastside Land Trust would presumably remain undeveloped as scattered tiny islands surrounded by an ocean of RVs.
This proposal flies in the face of long-held community values that include maintaining Half Moon Bay's small- town character and preserving its defining landscapes, including agricultural lands, natural resources and scenic beauty.
The application must comply with the city's Local Coastal Program and Coastal Act requirements. Glaring deficiencies abound, including failure to satisfy a key requirement (LCP Policy 9.9) that any proposed development must protect the site's scenic qualities, habitat areas and prime agricultural lands.
Notably, for this particular site, the LCP concludes that large-scale visitor-serving facilities are not needed, given provision for such facilities in other areas of the city. Half Moon Bay already has 954 hotel/motel rooms, RV sites and campground facilities, plus myriad vacation rentals in private homes. The city's hotel occupancy rate in 2018-19 was a mere 65 percent. Clearly, the coast does not need more luxury visitor accommodations.
This location is along one of the worst traffic stretches on Highway 1, especially on weekends and during the morning commute. A signal at Young Avenue would greatly exacerbate delays that people suffer daily at the Ruisseau Francais signal just to the south.
Just one year ago, representatives from Sierra Club, Surfrider Foundation and Committee for Green Foothills presented the City Council with 4,860 signatures opposing development at Dunes/Surf Beach; over half of these were from Half Moon Bay and the Midcoast. Some 150 citizens turned out to show their opposition at that January meeting, and, in October, 100 citizens protested again.
Given this overwhelming public opposition, as well as the glaring inconsistencies with the LCP, it is highly unlikely that any City Council — now or in the future — will stretch its discretion to accommodate this proposal, even if it is significantly modified.
As an advocate for coastal protection over the past 40 years, I've seen similarly controversial proposals consume decades, if approved at all. This application has not yet been accepted by the city as complete. It faces a daunting process that will take many years, given public opposition.
My considered advice to the developers is to work now with the Coastside Land Trust to find a mutually agreeable price and preserve this important open space as a legacy for our children and grandchildren.