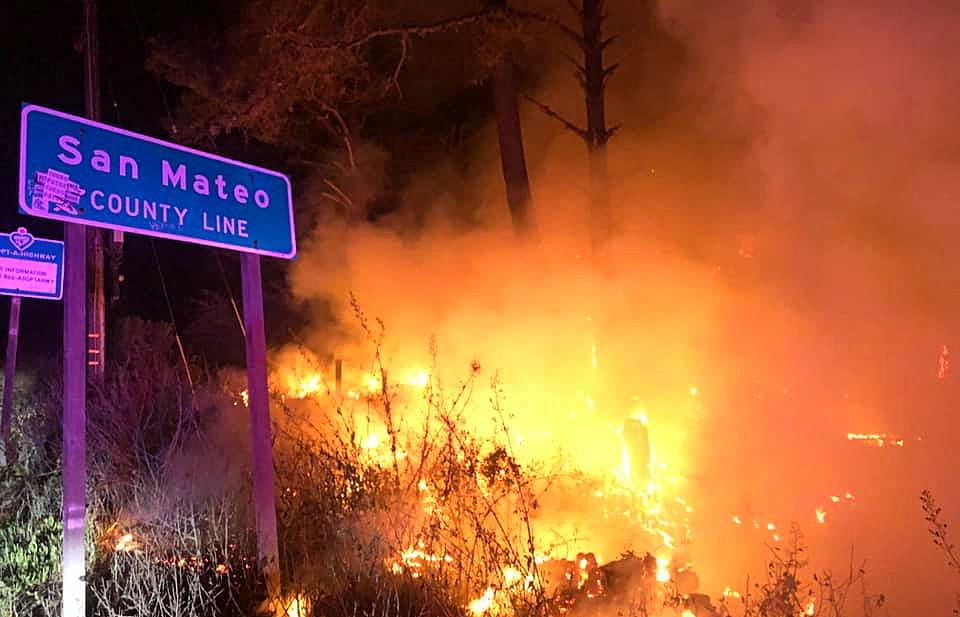 There are multiple reasons why the wildfire problem in California is growing worse: climate change is increasing the number of fires that burn more intensely and widely than in the past, past patterns of fire suppression have resulted in a backlog of fuel, and many people live in forests in harm's way. There is no single solution to the California wildfire problem, but the good news is that taking steps toward fire resilience will help reach broader environmental goals.
Last year's wildfire season was the worst on record for California and our region suffered its devastating effects. From lost homes and businesses to unhealthy air quality, all of us were personally impacted on some level. We are thankful for the strength and fortitude of those most affected and to all our first responders and those who came to the aid of the victims of the fires. Green Foothills has advocated on wildfire issues for decades, from forest management to land use in areas prone to wildfires. We believe a multi-prong approach may well be appropriate for fire resilience in San Mateo and Santa Clara Counties. A major part of that approach will be funding and protecting open space, stopping increased development in harm's way, and managing our lands for better fire resilience. Our recent fires are harbingers of oncoming impacts from climate change. Open space protection is key to adapting to climate change, and stopping fires and greenhouse gas emissions from sprawl.
Time to Rethink Building in the Wildlandurban Interface
The wildland-urban interface (WUI) is the area where residential neighborhoods and open space intermingle — in other words, an area with both a lot of wildfire fuels and varying levels of rural development. The important work of fire researcher Dr. Alexandra Syphard, Chief Scientist at Vertus Wildfire and professor at San Diego State University, shows that areas with very few people have fewer human-caused ignitions. The potential impacts are also smaller there with less life and property at stake. At the other end of the spectrum, areas with lots of people are more "urban" and have fewer trees and brush. Also, they are close to fire stations. The fire risk at both ends of the spectrum is relatively low.
In the middle of this spectrum are areas of widely-scattered residences in the forest and chaparral that have lots of fuel and provide many chances for human-caused ignition. They're also far away from firefighters. Unfortunately, this worst-of-both-worlds situation, as described by Dr. Syphard, applies to much of the forest and open space on the Peninsula and South Bay.
Large wildfires can be "zero percent contained" after several days because firefighters must of course prioritize the rescue of people and structures in those first few days instead of containment. Only once people are evacuated — often after spending time trying to either protect structures ahead of an oncoming fire, or even stationing firefighters at a building until the fire passes through— can those firefighters work on containment. The "zero percent contained" description obscures the hard work of rescues and building protection, work required by so much development scattered in the path of the wildfire.
Protecting Open Space Helps
Fortunately, the large areas of protected open space in our rural areas have reduced potential fire impacts. In addition to reducing potential ignitions, open space areas allow for better firefighting responses. Instead of the necessity of focusing firefighting resources on rescues and building protection, firefighters can more quickly prioritize containing the fire. It is far easier to place a firebreak if there aren't homes and structures to avoid. Perhaps even more important, large open space areas can be managed more efficiently for fire resilience. While thinning and prescribed burns cannot solve all problems related to fire risk, they can help and can be done more easily on large, undeveloped tracts of land.
Funding for open space acquisition and protection will stop much of the rural development that exacerbates fires. Of course, other steps are also crucial to limiting the damage from wildfires.
Conditions on New Development are Essential
Where land in the WUI is not protected and new development is proposed, everything that could reduce the fire risk caused by that development should be required as a condition for a permit. This includes undergrounding power lines to avoid accidental ignition, and building structures using the most fire-resistant techniques and materials. It includes requiring every homeowner to maintain their home in as fire resistant a way as possible (e.g. use of Class A rated materials, spark arresting vents, and rain-gutter guards). Homeowners should maintain defensible space with few brushy plants and trees within a 100-foot radius of homes and a "shaded fuel break" (an area with few brushy plants and with shade from taller trees) up to 200 feet beyond.