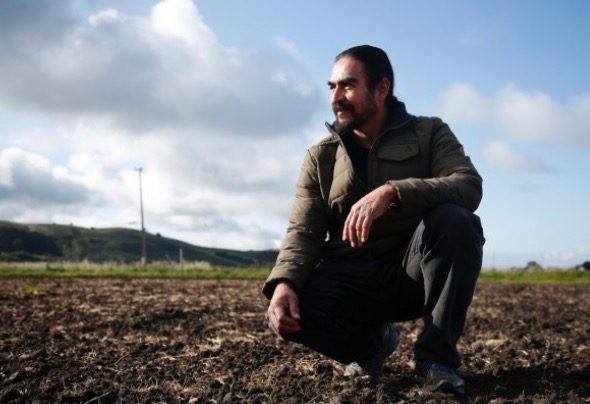 Joaquin Jimenez, a member of the Latino Council of Half Moon Bay, is working on an exciting new venture to establish a farming cooperative for farmworkers, called Rancho San Benito.  The project will allow farmworkers who work at coastside farms to also raise their own crops during off hours or on days they are not working. 
Joaquin has been reaching out to farmland owners, community leaders, and Half Moon Bay city officials to help locate a suitable plot of farmland for Rancho San Benito. He hopes to start this coming spring, on a pilot project of five acres. Green Foothills has been assisting in this effort, through our connections with landowners and community members.
Joaquin was inspired by a program in the Salinas Valley called Agriculture and Land-Based Training Association (ALBA) whose mission is to create economic opportunities for limited-resource and aspiring organic farmers and to help them launch their own farm businesses.
Joaquin is the farmworker liaison and outreach coordinator for Puente, a nonprofit community resource center for Pescadero, La Honda, Loma Mar, and San Gregorio. He is also the farmworker liaison for Ayudando Latinos a Soñar (A.L.A.S.) which provides cultural arts and social services programs for Latino youth and families in Half Moon Bay. In addition to all this, Joaquin volunteers for the Cabrillo Unified School District's migrant education program and most recently he has helped many of the workers at Bay City Flower Company find new employment after the nursery abruptly shut down operations last fall.
In January, Joaquin very deservedly received the "Role Model of the Year" award from the Half Moon Bay Chamber of Commerce.
Bravo Joaquin! We wish you the best in your exciting innovative new social justice venture!