From climate resiliency teams in North Fair Oaks to the protection of Juristac, the 2021 Leadership Academy cohort shined in their efforts to create environmental protection campaign plans through a racial equity lens. As part of the training program, participants formed 5 separate workgroups around these current issues:
Establishing Climate Resiliency Block Action Teams in North Fair Oaks.
Persuading local city governments to support resolutions to protect Juristac, the Amah Mutsun's most sacred site and a critical wildlife corridor.
Assessing the efficacy of community outreach by developers for the Ravenswood Business District Specific Plan.
Understanding the equity context around the closure of the Reid-Hillview airport.
Creating a strategy to pass a county ordinance that limits mining below the water table.
On Saturday, August 7, we held an online graduation where all participants presented their learnings to the Leadership Academy alumni community, friends, family, and Green Foothills staff. Watch these 5 workgroups' presentations delivered at the graduation to learn more.
Recruiting for the 2022 Cohort!
Green Foothills Leadership Academy has hosted eight cohorts of community leaders who live and serve in San Mateo and Santa Clara Counties in order to advance environmental justice and conservation. Leadership Academy alumni assume leadership roles, initiate and join successful campaigns that advance Green Foothills' mission and vision, and are involved in the Green Foothills community. Visit here for more information on alumni impact.
We are currently recruiting for the 2022 cohort (application deadline is 10/30 and program starts in January). If you or someone you know might benefit from the Green Foothills Leadership Academy, learn more and apply today.
Meet the Alumni from the 2021 Leadership Academy Cohort
Alexis Whitaker, San Mateo
Alexis works as the Utility and Sustainability Coordinator of the San Mateo Community College District where she manages sustainability programs, incorporating students and fellows into the district's initiatives to promote sustainable practices on campus and at home. Her background is in greenhouse gas analysis, energy efficiency, and decarbonization, and she is passionate about emissions reductions in the built environment. She combines her diverse experience to spearhead holistic sustainability projects at the District, helping to define and support SMCCCD's ambitious sustainability goals.
Allison Dykens – Half Moon Bay
Allison completed the Main Street of America Advocacy training series. She is interested in supporting farmers, rural housing issues, parks advocacy, and resourcing clean-up efforts with trained paid staff in order to account for safety liabilities, particularly for highways and parks.
Carl van Reis, Los Altos
Carl is a communications professional and is passionate about using his skills and knowledge for progressive causes. He currently serves as the Communications Manager for 350 Silicon Valley and looks forward to applying his knowledge towards inspiring environmental stewardship.
Cathleen Grado – Stanford
Cathleen has worked with neurodiversity groups and is looking to apply her graphic design/media creation skills in her public service. She is passionate about equitable access to nature and open space.
Emma Hokoda – Santa Clara
Emma believes that progressive climate action can be implemented a lot faster through nonprofit and community work. She has done several community-based research projects focused on environmental justice locally: from equitable park funding to addressing air pollution burdens for school children. She also did outreach and communications work for the Sunrise Movement and the City of Sunnyvale, supported Catholic Relief Services (an international NGO) with their climate smart agriculture portfolio. Emma now lives in Seattle, working with the International Rescue Committee as a Financial Literacy Associate.
Ever Rodriguez – North Fair Oaks
Ever has been a resident of North Fair Oaks for over 25 years and has been doing community work for over 20 years with several Bay Area nonprofit organizations. He is co-founder of the North Fair Oaks Community Alliance (NFOCA) and Climate Ready North Fair Oaks, a collaborative cohort of several community-based organizations working on environmental and climate change. Ever serves as the President of NFOCA and is also a councilman of the North Fair Oaks Council. Through his activism, Ever is working to improve marginalized communities' quality of life and supporting the enhancement of essential human needs.
Gabriela Valencia – North Fair Oaks
Gabriela is a co-founder of the North Fair Oaks Community Alliance: a young nonprofit organization dedicated to increasing civic engagement and representation, building community and promoting equity in North Fair Oaks, an unincorporated area of San Mateo County surrounded by Redwood City, Menlo Park, and Atherton. She is a Nurse Practitioner and is keenly aware of the adverse health impacts of environmental racism in her community and wants to promote access to nature to address them.
Izzi Henig – Atherton
Izzi has extensive experience doing community change work with a social focus. He is working on getting a degree in Earth and Planetary Science with a focus on Environment and Energy Geoscience from Yale. His area of interest falls into protecting access to water, watersheds, oceans, and ensuring access to clean water.
Kian Nikzad – Los Altos
Kian is a soon-to-be UCLA graduate who enjoys working on a wide variety of sustainability projects ranging from facility audits to bees. He is currently exploring how to transform his passion into a career. The Leadership Academy showed him the diverse ways people can get involved and contribute to something they support.
Lizbeth Amador – Santa Clara
Lizbeth is a long-time resident of San Jose and has been connecting her friends to nature through Calpulli Tonalehqueh, a Mexica dance group in San Jose, where she is a member and Chicomecoatl (sahumadora). Lizbeth is passionate about connecting people to nature and using this connection as the foundation for healing work.
Kenny Solorio – San Jose
Kenny has experience in trail maintenance and fuel reduction on top of creating and facilitating informational, artistic, and community workshops. He is actively advocating for immigrant, land, and tenant rights, and is exploring more ways to be involved with local education, advocacy, and conservation efforts.
Kira Barsten – Los Gatos
Kira is an active local environmental advocate. She previously worked on organizing a climate action city team in Los Gatos through 350 Silicon Valley and on political strategy with Sunrise Silicon Valley. She has worked as a Sustainability Analyst with the City of Mountain View and is very interested in running for a local commission or other local elected seat.
Manjeet Singh Bhamra – San Jose
Manjeet is new to advocacy but has long understood how important it is to bring environmental justice to the forefront. In an effort to better combat climate change, he came across Green Foothills back in 2015. He carefully began reading about initiatives to help shape the landscape he calls home. In his small way he got members of his often non-voting immigrant community to participate in bringing about positive change and was particularly proud to showcase Green Foothills' posts on Measure B/Measure C in the June 2018 election. Manjeet now serves on the Green Foothills Advisory Board. A physician, he advocates for his patients with the American College of Rheumatology. Manjeet enjoys trying different coffees, craft beer, exploring local wineries, HIIT workouts, and hiking in the Diablo Range and Santa Cruz Mountains.
Radhika Thekkath – Palo Alto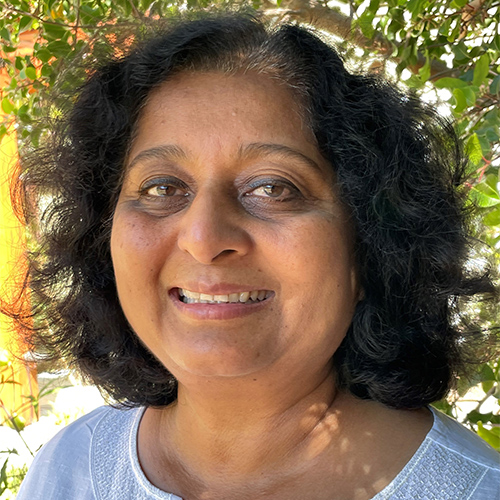 Radhika Thekkath is a retired computer scientist who worked in the tech industry for many years. Growing up in India, she used to play with friends on the edge of a jungle wilderness where she came to cherish the natural beauty of the mountains, animals, and flowers. She moved to California in 1985 and loved the different landscape here. An active board member of the California Native Plant Society (CNPS) Santa Clara Valley Chapter, Radhika has a mostly native home garden and gives talks on native plants and related subjects for CNPS. She also serves on the Green Foothills Advisory Board and is passionate about preserving the remaining Bay Area flora and fauna for future generations to enjoy.
Radhika and her family lived in Western WA for three years from 2017 to 2020 and there she became a member of WNPS, took a class on forestry management and stewardship, became a member of WOWNET (Women-Owned Woods Network), and actively managed a small forested area. She is learning to build using cob (lumpy adobe) and is currently working on her first cob building. Cob houses use local materials that sequester carbon, so they are very sustainable. They are also fire-resistant and healthy, having no toxic materials in the structure of the building. Radhika is a recently certified permaculture designer. Permaculture design emphasizes principles for a regenerative lifestyle, whether it is just living, gardening, water use, or agriculture. She is very keen to get other people excited about regenerative living.
Rhoda Fry – Cupertino
Rhoda has over 10 years of experience researching Cupertino quarries and understanding relevant databases and regulators. She has served in the City of Cupertino's Environmental Review Committee and has led two youth cohorts through Young American Policy Advocates.
Ron Valenzuela – San Jose
Ron Valenzuela, is the son of first generation immigrants, Patria Culla and Oscar Gaba Valenzuela of Naujan Mindoro Island, Philippines. Born and raised in Kamuning/Quezon City and in Mindoro Island, home of the Alangan Tribe Territory, Ron has been active in Social Justice, Indigenous Land Rights and Sovereignty both locally and in the South & Southwest areas.
Currently residing in San Jose in Ohlone/Tamien lands, he works with a bay area open space preserve, maintaining the preserve and trails, interacting with the public and continued stewardship of our local Lands. When not working or advocating in conservation and protection, Ron enjoys exploring the beauty of the Bay Area mountains, beaches, trails, lakes and the Pacific Ocean and long extended, road trips to less traveled locations, exploring destinations and visiting family and relations. Ron also serves on the Green Foothills Advisory Board.
Sarah Tang – Milpitas
Sarah has been actively involved with San Jose State University's Environmental Resource Center, where she helped facilitate a campaign where she visited local elementary schools and delivered lessons on environmental issues impacting California's watersheds. She is passionate about bringing nature to her urban neighborhood and addressing plastic waste concerns.
Sierra Barsten – Los Gatos
Sierra is a current full-time graduate student at NYU, studying Food Policy and Comparative Racisms. Having worked in environmental education, advocacy, and journalism, her exploration of her studies in graduate school now focuses on food sovereignty, racialized capitalism in food systems, and decolonizing extractivist economic systems that perpetuate the conditions for climate change and food insecurity.
Thank You to Those Who Make Our Work Possible
Green Foothills is grateful for the generous support of our partners who provide significant financial contributions in support of the Green Foothills Leadership Program. For a complete list of contributors, see Our Donor Community. Please support our Leadership Program with a contribution today.