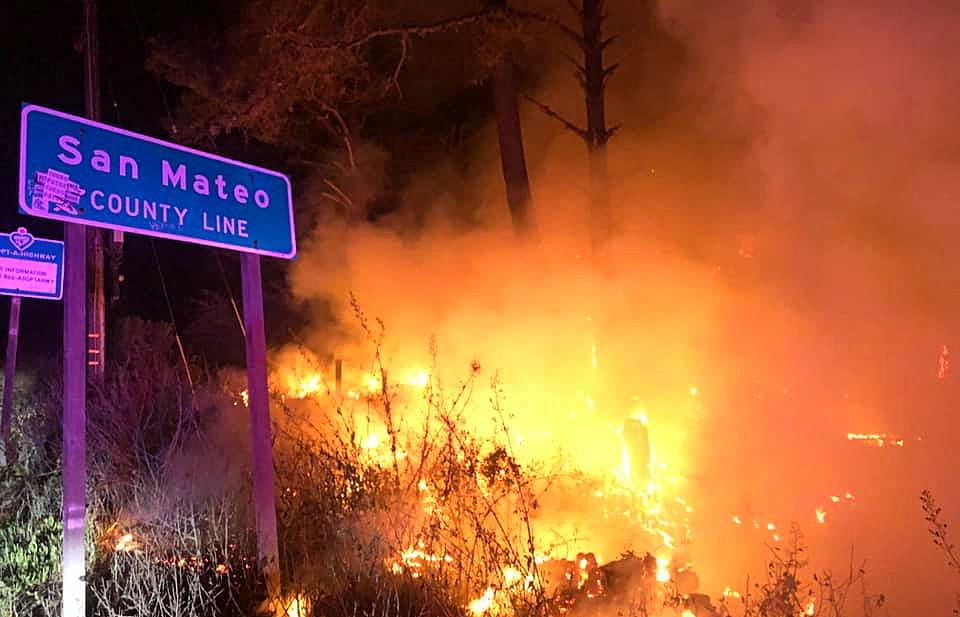 In the midst of this catastrophic wildfire season, we need to reassess our approach to fire risk reduction. We cannot rely only on removal of fuel through prescribed burns or forest thinning; instead, we must also restrict new building in fire-prone areas and ensure that existing homes are made fire-resilient. It's up to us to take the steps needed to adapt to climate change and protect both our communities and our forests.
The CZU Lightning Complex was the largest set of wildfires in recorded San Mateo County history. Ignited by multiple lightning strikes the night of August 16, the fires were officially declared fully contained on September 22. The fires burned 86,509 acres, or about 135 square miles in San Mateo and Santa Cruz Counties; approximately 22,755 acres were in San Mateo County. In many areas the fires were of relatively low intensity, which is a silver lining among the dark clouds of devastation.
Wildfires are part of California's ecology
Wildfires have shaped the ecology of California and the west for millennia. Until the mid-19th century, the redwood and Douglas fir forests in the Santa Cruz Mountains burned as frequently as every 15 to 25 years. While some fires were ignited by lightning, many others were deliberately set by Indigenous people to promote growth of seed-bearing annuals. These managed fires were generally of lower intensity, due to their frequency and timing during favorable weather conditions.
Fire frequency and intensity changed after Spanish missionaries and Anglo settlers arrived. Indigenous tribes were forced off their traditional lands and their land stewardship practices ceased. Early ranchers cleared and fenced the land to graze cattle, and loggers cut the old-growth forests. As networks of new roads were extended into remote wildlands, more and more people built homes within these fire-prone areas. The need to protect homes and lives led to the adoption of nation-wide policies to suppress all wildfires. In 1957, Smokey the Bear's popular slogan: "Only YOU can prevent forest fires!" became our national watchword.
After decades of suppression, fire risk has become increasingly severe. Climate change is now creating longer fire seasons in California and the West (seven months instead of five), resulting in much more intense and extensive fires. This year California fires have burned the greatest acreage ever, with two more months of fire season still ahead of us.
Reassessing fire risks and mitigation
Given the heightened fire risk we face from this history coupled with climate change, we need to re-assess much of our previous thinking and approaches to mitigation of fire risks. Every homeowner within the wildland-urban interface (WUI) should ensure that his/her home is as fire resistant as possible (e.g. replace highly flammable wood shingles and wood siding with Class A rated materials, install spark arresting vents and rain-gutter guards). Additionally, homeowners should create defensible space within a 100-foot radius of homes and create a "shaded fuel break" up to 200 feet beyond.
We also need to understand that even our best efforts to reduce fire danger, including the use of prescribed burns and thinning of overgrown forests, will still be ineffective during extreme fire conditions (high winds and temperatures, low humidity, and low moisture in vegetation).
To avoid exposing more and more people to these risks, decision makers with jurisdiction over high fire severity risk areas should adopt strong policies discouraging or outright prohibiting new homes to be located in harm's way. And as is done in areas subject to repeat flooding, funding should be made available to buy up properties where people decide not to rebuild after catastrophic wildfires.
Resiliency, recovery and restoration in Pescadero Creek County Park
The CZU Complex Fires burned an estimated 2,700 out of 5,860 acres in San Mateo County's Pescadero Creek County Park. Fortunately, fire intensity in much of the burned area was relatively low. Highly flammable and overcrowded shrubs and smaller trees like ceanothus and tanoak burned quickly, while coast redwoods, which have co-existed with fires for centuries, were charred but will re-sprout and recover.
The most urgent challenge for Pescadero is to ensure that fire-damaged erosion controls including culverts, ditches and water bars are repaired in order to prevent sedimentation of Pescadero Creek if there are major storms this winter. The steep slopes of Butano Ridge south of the creek are especially vulnerable to major erosion and devastating debris flow landslides. Denuded steep slopes may need to be seeded with native grasses and forbs.
In the longer term, restoration and stewardship of Pescadero's recovering forests will require careful assessment of the risks and benefits to the park's ecosystems from any proposed land management.
Forest restoration on a landscape scale can be quite costly, both for the initial work and long-term ongoing maintenance. County decision makers in the past have been tempted to harvest large redwoods to fund forest restoration efforts; some have even proposed major timber harvesting to help address the County's budget shortfalls. Monetizing park resources would completely subvert the park's fundamental purpose of protection of its resources.
Green Foothills will be watching carefully to ensure that any restoration is grounded in sound science, and is limited to the goals of achieving a resilient, healthy forest, clean cool streams, and abundant wildlife.