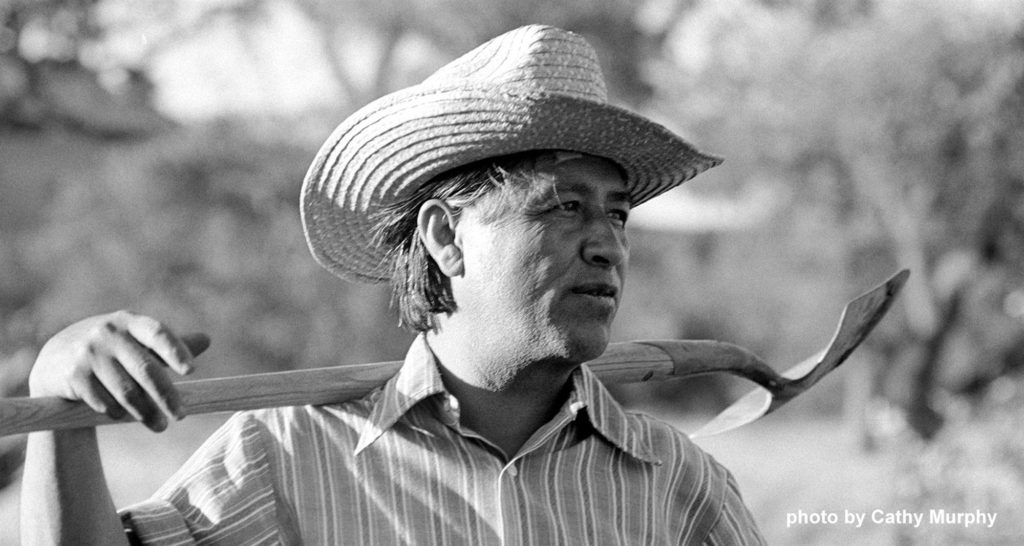 Green Foothills has been fighting to protect farmland and support farming in San Mateo and Santa Clara Counties for decades. Today on Cesar Chavez Day, we remember the Chicano hero that championed the farmworkers' rights movement and the need to continue la lucha – Spanish for the fight or the struggle – to protect farmworkers and farmland.

Early Life: A migrant farmworker at 15
Born on March 31, 1927 in Yuma, Arizona, Cesar Chavez was one of six children in a Mexican-American family. After losing their grocery store and ranch during the Great Depression, the family traded their home for eighty acres of land. The agreement was subsequently broken and the family couldn't afford the loan to buy back their house. So began the journey to California to become migrant farmworkers.

Once in California, the Chavez family picked fruits and vegetables, and at age 15 with only a seventh grade education, Cesar dropped out of school to become a full-time migrant worker to spare his mother from this work. Two years later, he enlisted in the United States Navy and served what he described as the two worst years of his life. After returning home, Chavez married his high school sweetheart Helen Fabela, and moved to San Jose where he worked as an apricot picker for a time.
An Activist Is Born: The fight for farmworkers' rights
It was in the Bay Area where Chavez met Father Donald McDonnell and Fred Ross, social justice activists passionate to be forces for change. McDonnell and Ross introduced Chavez to the Community Service Organization (CSO), a Latino civil rights group. Here he met lifelong ally Dolores Huerta.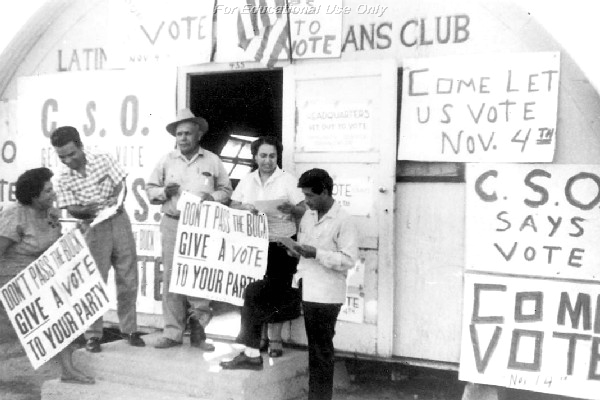 In 1952, he joined CSO, helping to establish a San Jose chapter and encourage Chicanos to vote. Soon after, Chavez became CSO's San Jose chapter Vice President, speaking across California in support of worker's rights and setting up other chapters. In 1958, Chavez became the CSO's National Director.
In 1962, Chavez left the CSO and with Huerta, co-founded the National Farm Workers Association, later renamed to the United Farm Workers (UFW). Even at a young age, Chavez had a heart to defend farmworkers, often driving those unable to drive to the hospital to see a doctor.
With UFW, Chavez and Huerta brought national attention to the ongoing struggle for farmworkers. Inspired by people like Martin Luther King Jr. and Mahatma Gandhi, Chavez's tactics were based on civil disobedience and nonviolent action. This included grassroots organizing, strikes, marches, boycotts, and fasts. Chavez famously supported initiatives across the country — including the 1965 Filipino American Delano grape strike, the 1966 Southern Texas Starr County fruit workers plight, and the 1970's Salad Bowl strike — all in the name of higher wages and better working conditions for farmworkers. In partnership with UFW and unions, he championed the passage of the California Agricultural Labor Relations Act, which gave collective bargaining rights to farmworkers.
Naturally Chavez inspired others, leading to the founding of two independent unions in the Midwest: Obreros Unidos in Wisconsin in 1966 and the Farm Labor Organizing Committee (FLOC) in Ohio in 1967.
Continuing La Lucha
Today the UFW is still active, organizing and creating change at the forefront. Similarly, Green Foothills continues to be on the front lines of the fight to protect farmland and support farming – including affordable and safe farmworker housing – in San Mateo and Santa Clara Counties. Through our work, we are seeking to improve our local food system that is now more critical than ever in this age of climate change and global health risks.
Resources