Stanford University has begun negotiations with the County of Santa Clara for a Development Agreement on community benefits that could be required as part of future campus expansion. This creates an opportunity to achieve long-sought protection for more than 2,000 acres of open space known as the Stanford foothills. Please sign Committee for Green Foothills' Protect the Stanford Foothills petition to urge the County of Santa Clara to permanently protect this important open space.
What's At Stake?
These 2,000 acres of grassy hillsides and oak savannah provide irreplaceable habitat for wildlife, including the rare California tiger salamander. Most of the hillside grasslands in northern Santa Clara County have been lost to development, meaning that those rolling golden hills you can see on both sides of Highway 280 between Page Mill Road and Alpine Road are some of the last grassland habitat for miles.
The Stanford foothills are located outside the university's Academic Growth Boundary (the official limit of campus development, also known as the AGB) and currently designated as open space—no permanent buildings are allowed there.
Source: Stanford University 2018 General Use Permit Application Summary and Overview
The AGB (black dotted line on map), established in 2000 as part of the Stanford University Community Plan, can't be modified unless a supermajority (4/5) vote of the County Board of Supervisors approves. This requirement will expire in the year 2025. After that, only a simple majority vote of the Board is required to allow development in the foothills.
Why Now?
We have an opportunity in the coming months to amend the Community Plan to make the 4/5 supermajority vote requirement for modifying the AGB into a permanent requirement. The County could decide to include the 4/5 vote requirement in its negotiations with Stanford over a Development Agreement, part of Stanford's application for a permit that will authorize the overall amount and type of development on its land until 2035.
Stanford has plenty of room to build within its current perimeter and does not need to develop in the foothills. Several months ago, the County released part of a study that showed Stanford could nearly triple its existing density without sprawling beyond the AGB and without becoming any denser than comparable university campuses. This is not to say that Stanford should or will increase its development on the core campus to that extent, merely that if the university wishes to add more academic or residential space on its campus, it does not need to build in the foothills to do so.
60 Years of Advocacy
CGF has been fighting to protect the Stanford open space ever since a group of activists gathered in a Los Altos living room in 1959 to "keep factories out of the foothills" and stop a new Stanford proposal to annex 254 acres of open space for industrial development. That battle was lost; those 254 acres are now part of the Stanford Research Park. However, out of that effort, in 1962 Committee for Green Foothills was born. In the decades since, we have fought tenaciously to protect open space, first near Stanford, and then all across San Mateo and Santa Clara Counties. We successfully sued over approval of a subdivision on Stanford lands at Coyote Hill on Page Mill Road; we battled over jurisdictional control of Stanford properties in San Mateo County. In 1999, we teamed up with the Stanford Open Space Alliance to fight for permanent protection of the foothills. The creation of the AGB was a victory, but the 25-year time limit means that this protection will expire in just a few years. We need to seize this opportunity to lock in the protection of the AGB in perpetuity.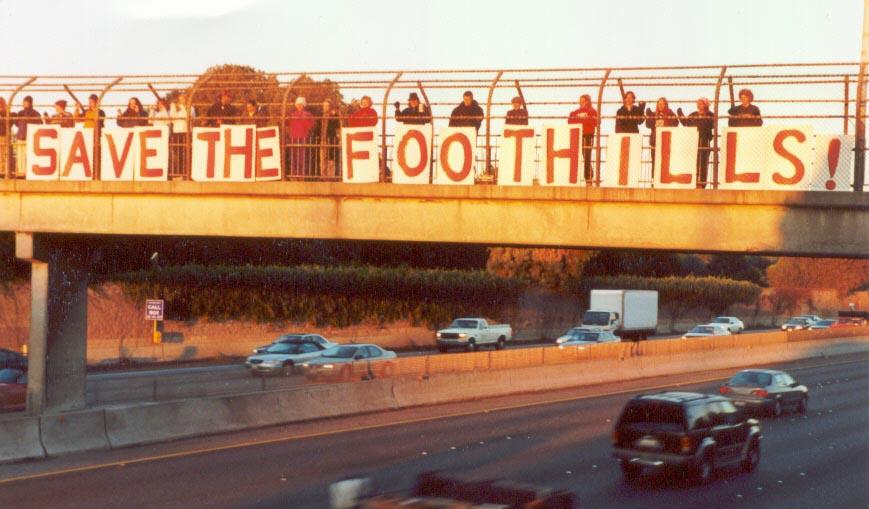 Advocating for the Stanford Foothills back in 1999. Photo credit: Peter Drekmeier
Join us in the fight! Sign our petition and stand with us to demand that the Stanford foothills be permanently protected.