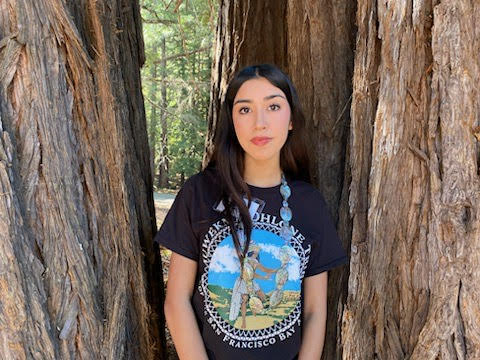 Isabella 'Amne Gomez is a Muwekma Ohlone Youth Ambassador and a first-year undergraduate student at Santa Clara University. Because of her youth leadership work, she was accepted into the Green Foothills Leadership Program during her last semester of high school. She plans to use the skills, knowledge, and connections gained in the Leadership Program to help her tribe.
For Isabella, environmental stewardship is an important part of connecting to and preserving Muwekma Ohlone culture, and that's what brought her to Green Foothills. "Being raised in the Bay Area I was grateful to be able to live on my ancestral homeland, and I've always been involved with environmental work with the tribe. When I was little, I would go to community events throughout the Bay Area to talk about my tribe's connection to the land. It felt good to be part of that," she said. "I want to help the native plants that still survive here, help them flourish. Growing up, [my family] would always talk about the different native plants of our area — brome, elderberry, sage … it's always bothered me that these are disappearing… That's one way in which the partnership with Green Foothills has been helpful."
Isabella was part of a group of several participants in this year's Leadership Program cohort who focused on developing campaigns to connect youth to nature and the land. Her capstone project for the Leadership Program was to plan a campaign to help Muwekma Ohlone youth learn about native plants and create native plant gardens.
Being the youngest participant in her Leadership Program cohort was a bit daunting to Isabella at first, but she quickly grew comfortable and felt that the age difference was beneficial in many ways. "At first it was kind of intimidating because there weren't people my age, everyone was older," she said. "But being put in that position was actually a good thing. I got different insights from different people and it made me more comfortable interacting with people of different ages and identities so I'm glad I participated…It's also made me feel more comfortable going into college because I'm more comfortable talking with people with different identities now."
Another helpful lesson of the Leadership Program was that there can be more than one way to reach a goal. "From hearing the perspectives of the different presenters, I realized that there's not just one way to achieve something," she said.
Isabella became an intern at Santa Clara University (SCU) while she was still in high school, doing community-engaged writing, research, and cultural programming, and she will continue her internship as an undergraduate this fall. Her mentor is Professor Amy Lueck. As Professor Lueck's research assistant, Isabella will do research about the Indigenous Ohlone people who lived at Mission Santa Clara in the 1700's and 1800's, focusing on learning more about their Ohlone identity rather than the identity that the mission tried to impose on them.
The internship intersects with her work as a Tribal Youth Ambassador. Recently she hosted a cultural youth campout at SCU for Muwekma Ohlone tribal youth, bringing the youth together to create and strengthen their connection to their culture. "Not being a federally recognized tribe, it's sometimes hard for [Muwekma Ohlone] young people to connect," Isabella explained, "so at the campout we come together to explore our culture and get more insight about our connection."
What does the future hold? Isabella told us, "My career goal is to become a lawyer so I'm doing a pre-law major, which is Philosophy. I plan to focus on American Indian law and on nonprofit and environmental law. I know for sure that I want to be a lawyer and use that expertise to help my tribe. Currently as a [federally] unrecognized tribe there are a lot of barriers that stop us from flourishing… I want to pursue a law degree so that I can help my community."
We look forward to following Isabella's career trajectory, and we look forward to continuing to partner with her and the Muwekma Ohlone Tribe.