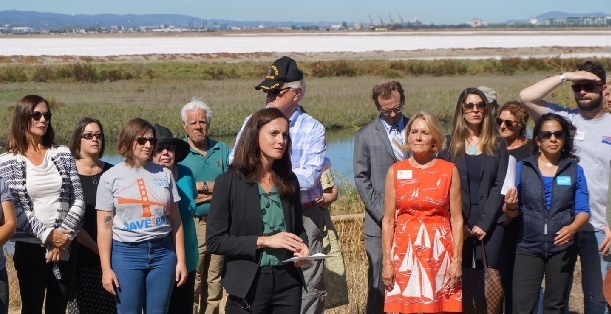 On September 24, Committee for Green Foothills, together with 3 other environmental groups, filed suit against the Trump administration over its actions in giving up Clean Water Act jurisdiction over the Cargill salt ponds in Redwood City.
"We're not going to stand by while Cargill uses the Trump administration's eagerness to gut our environmental laws for its own economic advantage," stated Megan Fluke, Green Foothills' Executive Director, at a press conference overlooking the Cargill site. "The salt ponds are part of the Bay. Development here would not only destroy restorable wetlands, it would put homes and businesses in the path of sea level rise, on an earthquake liquefaction site, and next to heavy industry."
The Trump administration's decision ignores the facts, the law, and its own staff's findings. This elimination of Clean Water Act jurisdiction over the Cargill salt ponds has one primary result: it makes it easier to develop these easily restorable wetlands.
Background
In 2009, Cargill began plans to build over 12,000 residences and 1 million square feet of offices on the Redwood City salt ponds. They were forced to withdraw this plan in 2012 due to public opposition, but then applied to the Environmental Protection Agency (EPA)  for a determination that the Clean Water Act did not apply to the salt ponds.
In 2016, the Region 9 office of the EPA (headquartered in San Francisco) produced a draft determination backed by comprehensive legal and factual analysis, finding that the vast majority of the Cargill salt ponds are in fact subject to the Clean Water Act. In spite of this, in March 2019 the Acting Administrator of USEPA, Andrew Wheeler, issued a final determination giving up Clean Water Act jurisdiction over the entire Cargill site. No facts or law were cited as to why the EPA had completely reversed course in this manner, making a decision flatly contradicted by its own staff's findings.
Our lawsuit seeks a declaration that this determination by Trump's political appointees was arbitrary and capricious, contrary to the Clean Water Act, and lacked substantial evidence to support the determination. We are joined in this suit by Save the Bay, SF Baykeeper, and Citizens Committee to Complete the Refuge.
Why It's Important
The Cargill salt ponds are part of the Bay. They support an abundance of wildlife, including shorebirds and migratory waterfowl and the species they feed upon. As former wetlands, they also provide an unparalleled opportunity for restoration to enhance the Bay ecosystem and protect our communities from sea level rise. We've already lost 90% of the Bay's historic wetlands — we need every acre of salt ponds to be restored back to wetlands.
The notion of putting homes and businesses on the salt ponds is a terrible idea. The Cargill salt ponds are far from transit, subject to flooding and sea level rise, and right across from heavy industries. We need to build more housing, but it should be built in infill areas close to jobs and transit, not out in the Bay.
What You Can Do
We need your help to defeat the Trump administration and Cargill in the courts and on the ground — so we can restore the salt ponds back to wetlands for the benefit of wildlife and people alike.
Sign our petition to Cargill and the City Council of Redwood City, telling them that the salt ponds should be restored to wetlands, not paved over for development.
Together we can defeat this reckless attack on our local environment.
San Jose Mercury News – San Francisco Bay: California and environmental groups sue Trump administration to block Cargill development
KQED – California and Environmental Groups Challenge Trump Over Redwood City Salt Ponds